---
The Mountain Radio Project
2000-2002

In collaboration with Mason Cooley.

The Mountain Radio Project was a series of site-specific live radio broadcasts on the FM dial using a handmade low power radio transmitter. Steve Rowell and Mason Cooley were the project's creators but Retlaw Kedzu was the star. Retlaw Kedzu was the pseduonym of a man behind the mysterious voice Rowell discovered when he bought a 1/4" reel to reel deck in 2000 around the corner from where he lived in South Pasadena, CA. On the tapes was a voice from 1972/73, seemingly broadcasting from a place in the Nevada desert that the broadcaster fictionalized by giving real towns fictional names. Retlaw triangulates his location constantly during his radio "station breaks" as if leaving breadcrumbs for some future listener to trace to the location of something, or someone, out there in the vast desert.

This evocative voice served as the radio host of mobile pirate radio broadcasts Rowell and fellow artist, Mason Cooley, performed in and around Los Angeles in 2000-2002, including at the legendary Los Angeles gallery China Art Objects for a live broadcast of Sylvère Lotringer, Chris Kraus, & Giovanni Intra reading from the book "Hallucination of Theory" in 2001.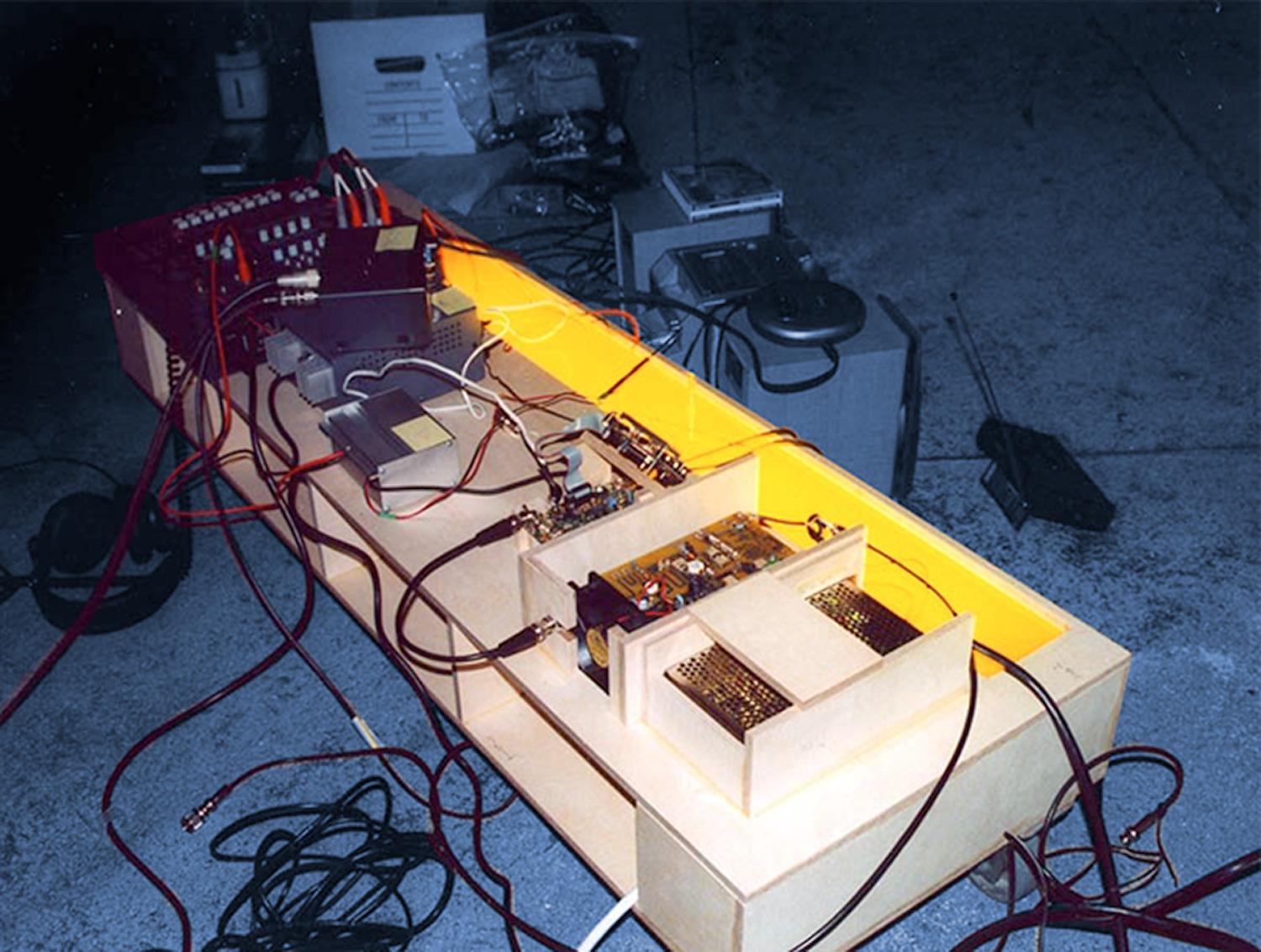 ---
2002 KQED California Report story and interview:


---
100 Years of Radio special anniversary broadcast:


FREQUENCY: 104.7FM
DATE: DECEMBER 12, 2001 10PM-1AM
LOCATION: 118.26'17" X 34.08'52", SILVER LAKE, LOS ANGELES
RANGE: 5-10 MILES E-SE
POWER: 60 WATTS
OPERATORS: RAY RUG + PETER CRIK

TRACK LISTING:
TRACK 1 - RANDY GREIF [WAR OF THE WORLDS]
CALIFORNIA SUPERSTATION - NEGATIVLAND [DICK VAUGHN]
ON TOP OF THE MOUNTAIN - RETLAW KEDZU
MARCONI_DEC12 - MARCONI ORIGINAL RECORDING
ATOZVOICE - MORSE CODE INSTRUCTION FOUND AS A WAV FILE ON THE WEB
MORSE_S_BYTETALK - RAY RUG MODIFIED MORSE CODE LETTER 'S'
MARCONI_ONLISTENING_EX - MARCONI ORIGINAL RECORDING
JAMES GABBERT'S DELIGHT 1 - NEGATIVLAND [DICK VAUGHN]
AS FAR AS THE STATIONS CONCERN - RETLAW KEDZU
SUFTRO_101192 - STEVE ROWELL & DAVID MCDOW / SUFFERTROUGH
NEWS HEADLINES, MORE MIS-CUES, TOP 10 - NEGATIVLAND [DICK VAUGHN]
MURDER COMES AT MIDNIGHT - INNER SANCTUM EPISODE, 1941
CALIFORNIA SUPERSTATION - NEGATIVLAND [DICK VAUGHN]
GUAGLIONE (1959) - PEREZ PRADO
JAMES GABBERT'S DELIGHT 2 - NEGATIVLAND [DICK VAUGHN]
MARCONI_FUTUREOFWIRELESS 2.6 MB
SHORTWAVE_WENDOVERUT 1.4 MB
DREAM OF THE MOUNTAIN RETLAW KEDZU 2.8 MB
JAMES GABBERT'S DELIGHT 3- NEGATIVLAND [DICK VAUGHN]
OFF-AIR COMMENTS #2, SUICIDE MAN - NEGATIVLAND [DICK VAUGHN]
DREAM FULL - RETLAW KEDZI
DICK VAUGHN: POPULAR TV-MENTALIST - NEGATIVLAND [DICK VAUGHN]


---
2002 Los Angeles Times aricle "Voices in the Night" by Jeremy Rosenberg