---
Suspension of Disbelief

2011-12
Curatorial project, DC 5X5 public art initiative, Washington, D.C., 2012
March 20 – July 1, 2012 at numerous sites and event based performances in the Federal District and surrounding areas in the former Union state of Maryland and former Confederate state of Virginia.
The aim of Suspension of Disbelief curatorial experiment is to investigate the rich legacy of Washington, D.C. as a place of intricate historic meaning and arcane ciphers, at the coordinates of cultural, institutional, and ideological vectors of influence. The District, neither a city nor a state, exists in an indeterminate realm, suspended between exception and inclusion. The five artist projects of Suspension of Disbelief act as ephemeral, temporal monuments on a stage crowded with contradictory interpretations of history, memorialization, and public space, in a media-saturated theater of contemporary politics. - Steve Rowell, as curator.

Artists in Suspension of Disbelief:

KUNSTrePUBLIK (Germany)
Deborah Stratman & Steve Badgett (USA)
Lize Mogel (USA)
Office of Experiments (UK)
Charles Stankievech (Canada)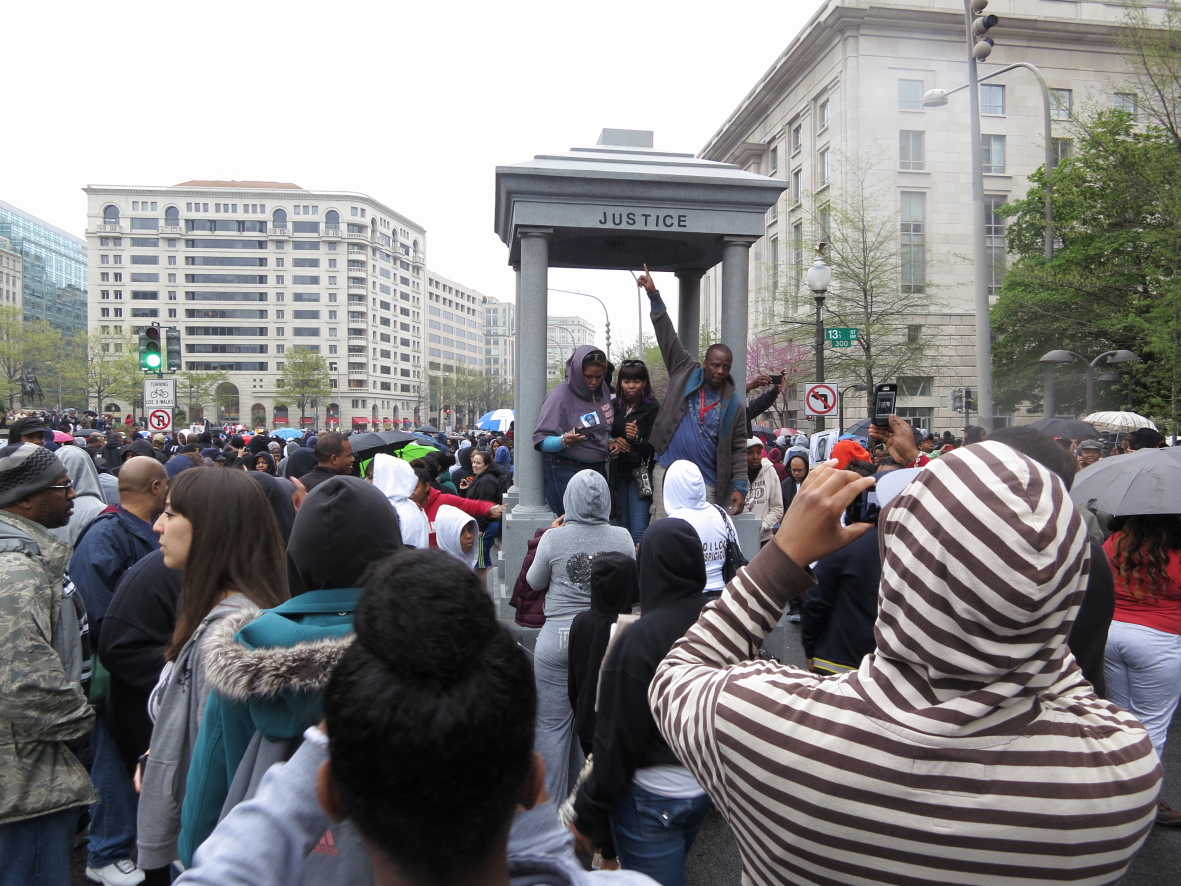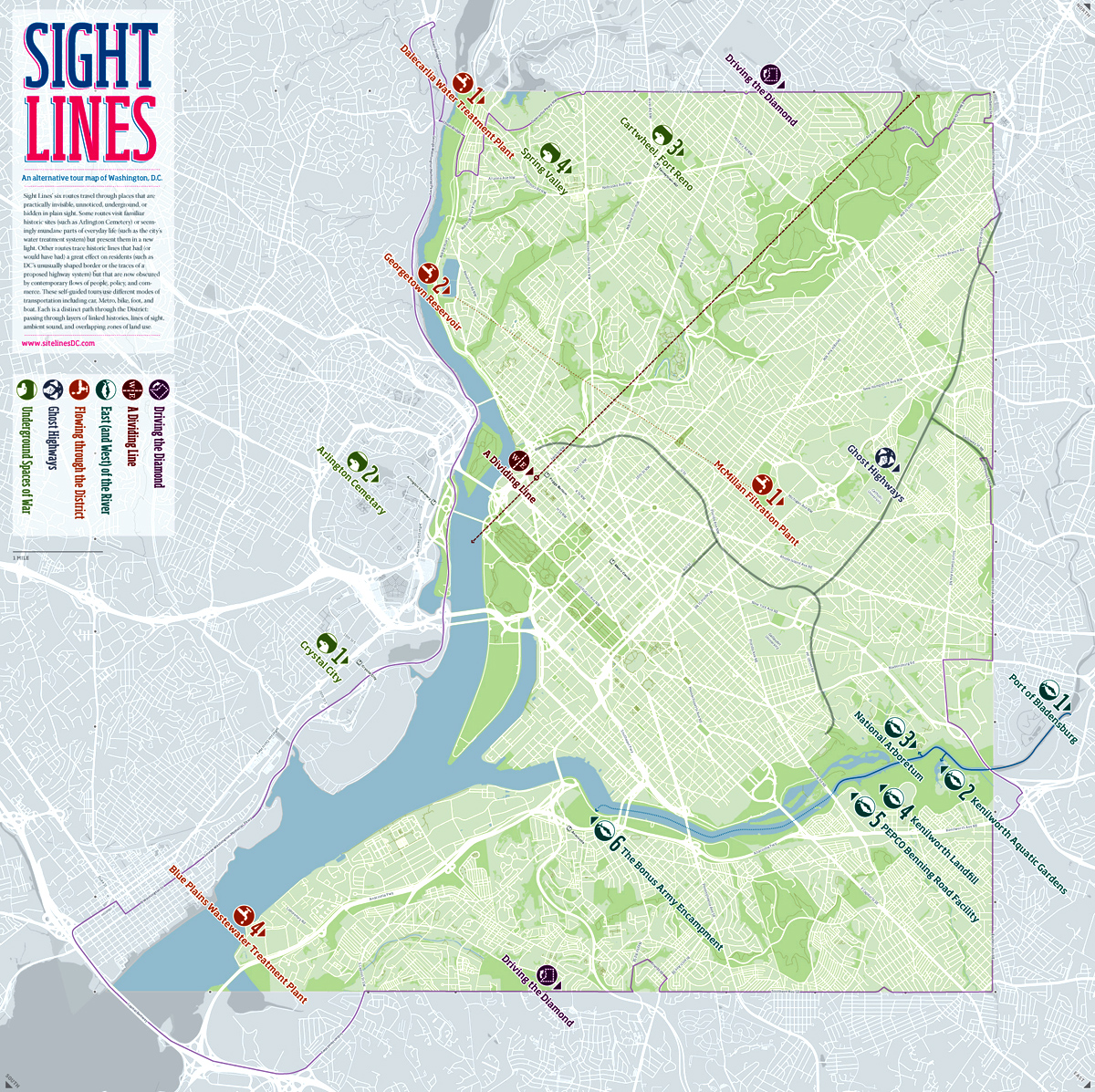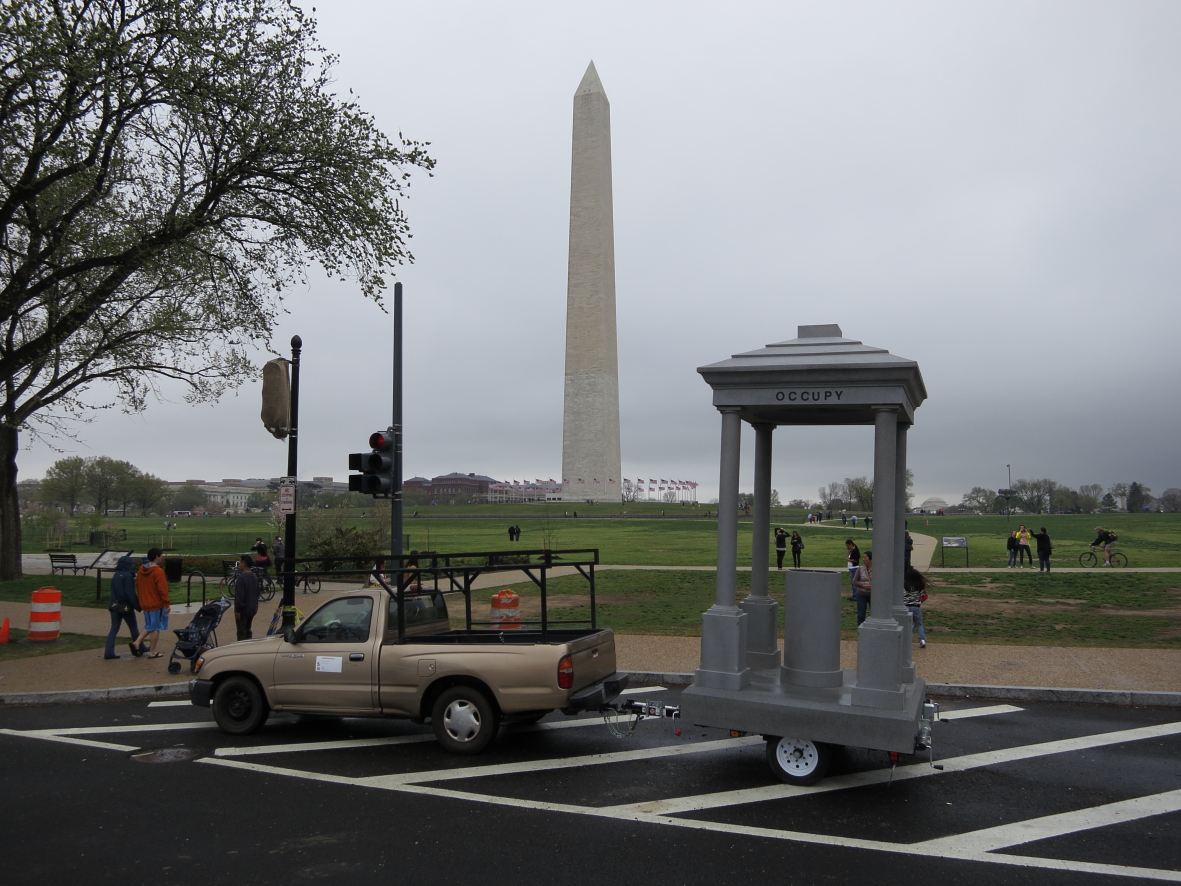 ---
KUNSTrePUBLIK: Fountains of D.C.

A mobile replica of the Temperance Fountain located in Penn Quarter is touring D.C. as a tool of protest. KUNSTrePUBLIK's work is inspired by the relationships of two significant periods in DC's history – the 19th century Temperance Movement and the 20th century Straight Edge punk rock music scene. Both periods share similar values of social reform, activism and counter culture. The fountain will be hijacked and modified by various groups willing to express their values and agendas of change in 21st century. The mobile fountain is equipped with an integrated sound system and will be taken to specific sites around the District relating to their ideas and used for inspirational public gatherings, musical events, and community dialogues.


---
Deborah Stratman & Steve Badgett: Polygonal Address (PA) System

A monumental, floating pentagonal platform (approximately 30 feet per side), anchored in the Washington Channel, a federal waterway leading to the Capitol's Tidal Basin. The structure slowly rotates, propelled by electric motors, and is equipped with an on-board sound system that plays a program of contemporary and historic audio recordings highlighting instances of public address in the District. Oratories on civil rights, women's rights, labor struggles and military intervention project from speakers embedded in the sidewall, as the piece hovers above the water in rotation. Audio sources were compiled from the Library of Congress, National Archives and Pacifica Archives amongst others.

This symbolic craft might be considered a People's Pentagon, where free speech occupies the physical model of a monolithic national institution whose policies are often at odds with its citizen's interests and needs.
PA System also reflects an interest in the mystical strength attributed to geometrical forms. The floating island becomes simple iconic manifestation of Platonic resonance.

The project was originally inspired by Abbie Hoffman and Jerry Rubin who aimed, together with 75,000 demonstrators, to levitate the Pentagon in order to exorcise its 'evil spirits' and thereby end the Vietnam War. It was additionally inspired by General Smedley Butler's speeches at the 1932 Bonus Army encampments in Anacostia, a movement that led to the passing of the GI bill.

PA System is entirely solar-powered. In DC, it operated on a timer, spinning continuously and playing speeches daily from 10am-7pm. The piece is comprised of five modular sections, each floating on five 55gal poly drums. It was approachable via watercraft, and visible and audible from the neighboring shoreline.

VOICES:
RALPH ABERNATHY
BELLA ABZUG
MAYA ANGELOU
MARY MCLEOD BETHUNE
LEE BRIGHTMAN
QUANNAH PARKER BRIGHMAN
H RAP BROWN
GENERAL SMEDLEY BUTLER
LIZ CARPENTER
ROBERT CAVELLI
CESAR CHAVEZ
SHIRLEY CHISHOLM
ANGELA DAVIS
EUGENE DEBS
JOSEPH DUFFY
FREDERICK DOUGLASS
RONNIE DUGGER
LADD EVERITT
BETTY FRIEDAN
SAMUEL GOMPERS
DICK GREGORY
REVEREND GRAYLAN HAGLER
SARA HAILE-MARIAM
FANNIE LOU HAMER
CHRIS HEDGES
CLIFTON HILL
CHRISTOPHER HITCHENS
JULIUS HOBSON
ABBIE HOFFMAN
BARBARA JORDON
CORETTA SCOTT KING
WALTER LARA
BRIAN LEE
JOHN LEWIS
JOHN S LEWIS
HUEY P LONG
COURTNEY LOVE
RUSSELL MEANS
STUART MEECHUM
TUOLUMNE MEWUK
RALPH NADER
REVEREND DARLENE NIPPER
CARL OGLESBY
A PHILIP RANDOLPH
BAYARD RUSTIN
CINDY SHEEHAN
DAMU SMITH
BRUCE SOLLOWAY
RABBI SCOTT SPERLING
DR BENJAMIN SPOCK
BOOKER T WASHINGTON
CORNELL WEST
ROY WILKINS
CHRIS YAZZIE
WHITNEY M YOUNG
MALCOM X
---
Lize Mogel: Sight Lines

Sight Lines is an alternative tour map of Washington, D.C. These six routes travel through places that are practically invisible, unnoticed, underground, or hidden in plain sight. Some routes visit familiar historic sites or seemingly mundane parts of everyday life, but present them in new contexts. Other routes trace historic lines that had (or would have had) a great effect on residents but that are now obscured by contemporary flows of people, policy, and commerce. These self-guided tours use different modes of transportation through the District. Each is a distinct path, passing through layers of linked histories, lines of sight, ambient sound, and overlapping zones of land use.

Tours traverse spaces of war, water, invisible highways, boundaries and margins. Routes can be visited by foot, Metro, bicycle, car, or boat.


---
Office of Experiments: 1X1

"Tsunamis know no national borders, any more than oceans know their names, or radiation can be containe from the flow of water, filtered from the rain, cleaned from the sea or plied from our tears. How can people forget, how can culture respond or science calculate and society mitigate for the events of one year ago, a tragedy tha will unfold through time and space beyond the confines of Japan's national borders to affect and touch us all."
- Neal White, Office of Experiments

With this project, Office of Experiments are creating a distributed artwork in which 1000 vials of symbolic tears collected water from Japan, will be used to water some of the 3000 Cherry Trees donated to Washington, DC by Tokyo 100 years ago. A temporary lab at Transformer on P Street will display the 1000 vials, which will then be distributed by volunteers. Mapped and documented online, the distribution of these vials address both the intimac and scale of this disaster that transgresses the territories of society and culture. Further information and limited edition prints were be available at Transformer gallery.

"We hope that through multiple acts of remembrance in the public spaces of Washington, DC we can engage the public in social forms of art in which participation draws attention to a disaster whose natural origins have bee amplified through nuclear technologies", states collaborating artist Tina O'Connell.

Office of Experiments [OOE] is a London based art and research organization led by UK artist Neal White. For this project, OOE are working with Irish artist Tina O'Connell for this temporary public art project. OOE thanks Casey Smith, Akemi Maegawa and students at Corcoran for their help.


---
Charles Stankievech: OVER and OUT

A mobile listening station roving to historically significant sites of the intelligence community across the District (and extended zones). The public will be invited to listen to the stream of real-time radio signals captured in the ether above D.C., mixed by the artist using a customized equipment array.



FREQUENCY: FM 89.9

SCHEDULE

Wednesday: DC Historic Electromagnetic
Marconi Monument

Volta / Alexander Graham Bell Lab

Dept. of Terrestrial Magnetism

Voice of America
Marina Cantina party curated by Steve Rowell
Thursday: DC Intelligence
CARTWHEEL, Fort Reno




Pierce Mill - Art Barn




Intelsat




NIMA: National Intelligence Mapping Agency




Former CIA OSS Building



FBI HQ: Hoover Building
Friday: Maryland, Crypto-Electro
National Security Agency

National Electronics Museum for Defense
Saturday: Virginia, The Companies
Freemason Scottish Rite of the District of Columbia

Central Intelligency Agency (CIA)

MITRE

Narus

Defence Advanced Research Projects Agency (DARPA)

National Reconaissance Office

Na tional Geospatial-Intelligence Agency, Fairfax

Pentagon